This is a sequel review, therefore there will be spoilers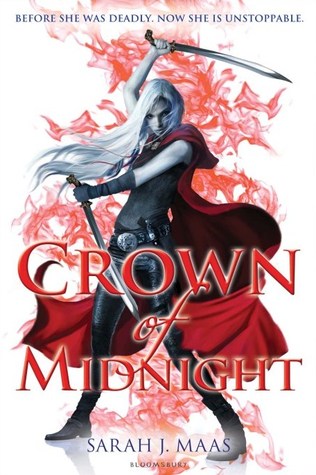 This is the second book in the high-fantasy Throne of Glass series, and this was like the first book on caffeine. There were twists and turns around every corner: characters were murdered, identities were revealed and butt was kicked by our leading lady, Celaena Sardothien. This book ramped the world up a notch and we are beginning to discover that there is a lot more to this world than the fancy city of Ardalan. I loved how this book took a different direction than what I expected and how the characters have changed compared with the first book. I thought that this was a brilliant sequel that continued the story perfectly and left us on a cliffhanger that just might actually blow your mind.
In this book Celaena Sardothien is officially the royal assassin and the King of Adarlan's deadliest weapon. She must win her freedom through his enemies' blood and after four years of killing, she'll be free. But she is harboring a secret. She cannot bear to kill for the crown. And through every death that she fakes, she is putting her dear friends Chaol, Nehemia and even Prince Dorian at risk. But she has more problems to deal with than killing for the King: a chain of rebellion is being to seep through the Kingdom, with whispers of Terrasen's lost heir, Aelin, being returned to the throne. But alongside rebellion, a magic darker than anything Celaena has ever experience is beginning to return. Can Celaena combat the darkness and keep herself, her friends, and the Kingdom safe? And what will she sacrifice for the fate of the people?
Firstly, I loved how much more we discovered about this amazing world. We moved away for Adarlan, and began to discover more about Eyllwe and Terrasen and the Witch Kingdoms. I felt like the world was slowly expanding and as Celaena is due in Wendlyn, city of the Fae, I daresay we will be getting more world development in the next book. I loved how this book built on information that we had already learned in the first book and how you weren't completely overwhelmed with character points and plot points and world details. You had time to digest the information and accept it. The magic system is really interesting but seeing as Celaena doesn't know much about it, we don't know much about it. I'm really excited to see what is revealed in the next book about magic because being in the land of Fae, I'm sure some more details will come to light. The plot was insane; there were twists and turns and battles and confrontations and I almost died at the cliffhanger at the end. This was fast-paced and engaging and funny and you get swept up in the ride.
The characters also got a lot more interesting as more details about them were revealed. I loved how we got to see one of Celaena's old acquaintances, Archer, and how she interacted with someone from her past. I think that he brought out a number of qualities that we hadn't seen in her before as she was forced to deal with this aspect of her past that she didn't want to remember. We also get introduced to Chaol's father and this reveals more about Chaol's family life and when he upped sticks, left his family and his title, to come to Adarlan. As to his father's personalities, we don't really know that much about him apart from that he and Chaol aren't on the best of terms. I wish we had seen more Dorian because I am still firmly on his side. I really like how he is beginning to come into his own and is beginning to expect at least some of the responsibility of being King, and now that he has magical powers, it is something else that he and Celaena can connect over. I also really loved the scenes where Dorian stood up to his father, which snippets of what kind of a man he is going to be. I wish we had also seen more of Kaltain, because I think she is a really interesting character but considering she is in prison, this isn't unusual.
If you cannot tell, I loved this book. I love this series. I love these characters. Just…gah…5 stars, and if you like ANYTHING about fantasy or romance or kick-butt character, you REALLY need to read this series and jump on this band-wagon.