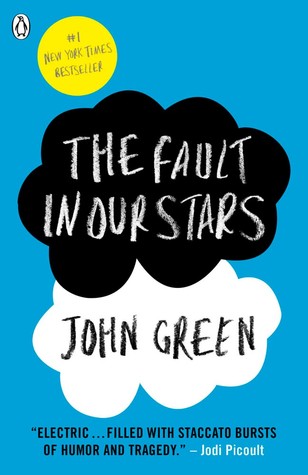 I first read this book last year and have just recently re-read it and I think by now I have a pretty good understanding of the book as a whole. My first tip would be: don't let this book intimidate you. I know that a lot of books that have received a lot of hype – like Harry Potter for example – can be very scary intimidating for a first time reader, but the vast majority of these hyped books are actually excellent books. And this is no exception. It's hilarious – I'd actually forgotten just how funny it actually is – whilst still feeling wholly real and relatable. The characters are vivid and creative and very well developed and you develop really strong attachments to the characters in a matter of pages. Although this might not be everyone's favourite John Green book, it is most certainly worth a read and you might want to consider starting out with this book.
This story follows 17-year old Hazel who has been living with cancer since the age of 13. Despite the tumor-shrinking medical miracle that has bought her a few years, Hazel has never been anything but terminal, her final chapter inscribed upon diagnosis. But when a gorgeous plot twist named Augustus Waters suddenly appears at Cancer Kid Support Group, Hazel's story is about to be completely rewritten. With the help of Gus and her two doting parents, Hazel tries to make her mark on the world.
The cast of characters in this book isn't overly large but all the characters that are included are interesting and humorous and none of them feel over-developed or fake, the opposite really. I've never actually been that familiar with someone who has cancer; I do know my young cousin Izzy had a brain tumor and was very, very ill but as she lives quite a distance away from me I didn't get to see her as she lived through this. But, I feel that Hazel lives a very realistic cancer story – at least in my eyes. I don't know whether it is because I am naturally sarcastic and conscious of others but I felt like Hazel's existence was real. She never sugar coated anything; she knew what was happening to her and the chances that she had of surviving. She was blunt and mature yet she still felt like a typical teen. Augustus isn't exactly the mos realistic teenager, but he definitely made a heart-warming and enjoyable character and I loved the relationship that he had with Hazel. The scenes that he has with Isaac – and good friend who becomes blind thanks to a rare sort of eye cancer – actually made me laugh out loud. I felt like all the characters in this book, no matter how small, all served a purpose and added something to the story whether it be a different outlook or situation and that is one of the things that I really like about this book.
Something that I really like about books that follow illness is that there is no set storyline, and that is certainly no exception with this book. When the book begins, you really have no idea where the story is going to take you and that really adds tension and uncertainty when events do happen. The main theme of this book is the romance, but it's so subtle that it never really occurs to you that it's a romance book, until a few key scenes hit you hard in the chest. John Green's writing style is so relaxed and easy-to-read that you don't need to dedicate hours just to plough few a few chapters; I seemed to fly through this book in a matter of days. This book contains romance and humour and light-heartedness and depressing moments and I think it really has something for everyone. This book makes me laugh every time I read it, it makes me feel sad – almost to the extent where I have tears in my eyes – and yet I always seem to find something new each time I read it. I think that you just need to put the hype aside when reading this and read it for what it is: a funny, up-lifting and sometimes devastating story.
Yes this book isn't perfect – the romance is slightly insta-lovey but nevertheless I love the messages and the whole point of this book. It's definitely a 5 star book in my eyes and I really, really hope that you choose to pick this one up.