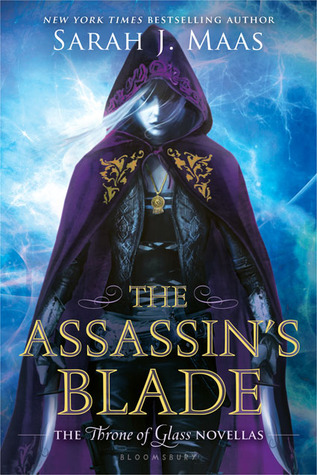 This series is something like an addiction for me, as you probably know – if you don't, then check out my reviews for Throne of Glass, Crown of Midnight and Heir of Fire. And, with the next book coming out in a few months I decided it was time that I truly got caught up with the series – and with things now getting serious I figured I should know the whole story with Celaena. I'm so glad that these novellas were introduced in a physical format because it is a great addition to the series and a obvious must-read for any Throne of Glass fan. I know that there are people who have problems with this set of novellas; the biggest problem being that because each story is a complete story, the suspense and the cliff-hanging was lost. But I loved reading a book about the every-day life of Celaena and exploring more in the world that Sarah J Maas has created. The new characters were interesting and intriguing and I loved the way that the stories followed on from each other rather than being completely separate. This book might not be in the same vein as the specific Throne of Glass series but it is still a great addition. I've decided to do a review on the whole book rather than each specific story – but if you would like to see that, leave me a comment!
In this bind-up of novellas, we follow Celaena in the year leading up to the start of Throne of Glass. Celaena Sardothien is Adarlan's most feared assassin. As part of the Assassin's Guild, her allegiance is to her master, Arobynn Hamel, yet Celaena listens to no one and trusts only her fellow killer-for-hire, Sam. Before the incident that leaves Celaena in Endovier, she  survives five daring missions. They take her from remote islands to hostile deserts, where she fights to liberate slaves and seeks to avenge the tyrannous. But she is acting against Arobynn's orders and could suffer an unimaginable punishment for such treachery. Will Celaena ever be truly free? And will she learn the truth – that everything comes at a price?
Before I even get into the characters or the plots, I want to mention how this book was. It felt like a spy film being played in my head – each client of Celaena's was a mission and they were all leading up to the big one, the grand finale, the pièce de résistance if you will. I just loved seeing Celaena doing what Celaena is known and renowned for. We got to see just how bad-ass she is and this is basically a book that I really wanted but never expected to actually get. This is what I want for every single book series out there. Just a couple of hundred pages about a normal day-in-our-lives for some of my favourite characters. But just because this is a typical day in the life of Celaena, that doesn't mean that this wasn't thrilling, fast-paced and heart-wrenching. Each of the 5 novellas was action-packed and engaging and the stakes definitely weren't exaggerated. I also really liked how each novella was a complete story and sort of led on from each other – although I can see how some people would say that this slowed the overall pace of the book. I also love the backstory that this book comes with – but it's not necessarily Celaena's as that mostly comes in Heir of Fire. We get to see the famous Sam for the first time, and we also get a look at Arobynn Hamel for the first time (I got a definite Haymitch Abernathy vibe from him…but this guy is a lot more twisted).
The new characters in this book are definitely varied and I think that gave a wider look at the world that Erilea is. There was a ruffian pirate lord, a down-on-her-luck waitress with bigger dreams, a merchant who sold part of his life for a priceless ware, a tortured young fighter seeking revenge, a woman whose livelihood is made from selling her body, a power-hungry woman driven to mass enslavement for money, a man trying to beat what his world has turned into, a torturous crime lord and a assassin who is just desperate to escape his life with the woman he loves. That final one is Sam. And although I am still firmly on team Dorian – who makes a small cameo alongside Chaol – I did really like Sam and I know that this sounds cruel, but I see him more as a development tool for Celaena rather than her first love…I know, I'm mean…But without Sam, she never would have ended up in the Salt Mines and never would have embarked on the epic quest that she is currently on.
This book was fun and epic and just the thing to tide me over with until I get my hands on Queen of Shadows (September 1st guys!) I'd give this one a 5 out of 5 stars – I mean come on, it's Sarah J Maas, and I think that if you are a Throne of Glass fanatic then you've probably already read this one. And if you haven't? You might want to look into it.