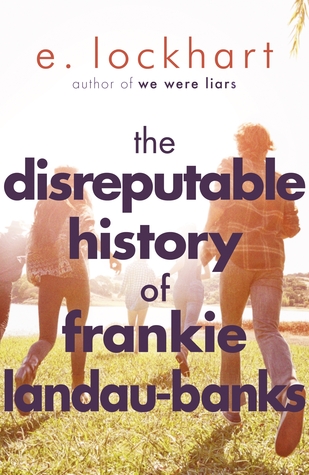 I read We Were Liars back in December and since then I've been on the hunt for more of E Lockhart's books. And when I found this is my local bookstore, I couldn't not justify buying it. It sounded right up my alley: strong, independent teens, relationship dramas and secret societies. So I read it – and I really loved it. It wasn't what I was expecting, really, and I feel like E Lockhart's writing was so much easier to read and engaging in this book. So if you want to get into E Lockhart, I'd recommend reading this before We Were Liars as the writing is much more fun and emotive. The characters in this book are fantastic – especially Frankie, who I think might be my new spirit animal – and I loved how it was told like a fairy tale or a fable, we were being told about Frankie's exploits by the narrator rather than Frankie telling us about her exploits. This book was funny and exciting and vey empowering for me as a fellow teenage girl, so if you loved We Were Liars or just like seeing empowered young females then I would definitely recommend this to you.
Fifteen-year-old Frankie Landau-Banks has grown up a lot over the summer. She's no longer daddy's little girl – and almost immediately after starting the new semester at her highly prestigious school, she bags goofy-but-gorgeous Matthew Livingston as her boyfriend. They get along great but then Frankie discovers that Matthew is a member of a boys-only secret society that specialise in 'hilarious' pranks. Which hardly seems fair… especially when Frankie knows she's smarter than any of its members. And to prove this, she's going to teach them a lesson. Soon Frankie is setting the boys up with all sorts of ridiculous schemes and sending them on wild goose chase after wild goose chase. But the fun can't last forever, and soon Frankie will have to choose between what she think she wants, and the reputation she deserves.
Frankie is fabulous; I should probably get that printed on a t-shirt. I've never read about a character like her. She is so strong-willed and determined and independent and she is the first character I've read about in YA literature who is indirectly, a feminist. And I love that. This book was published in 2008, but I still feel like it's 100% accurate and is still 100% relevant to today's society. Everything that Frankie highlights about her school is true – everything from the salad bar choices to the male only cliques. She also is quite sarcastic so I connected with her instantly. I also loved Trish, Frankie's best friend, who is super supportive and encouraging of Frankie even if she doesn't quite understand what Frankie is doing. The rest of the characters in this book – whilst some of them are quite far from decent human beings – they were all intriguing and interesting to read about and they all added something different to this book. I think one of E Lockhart's specialties is creating complex characters, who all feel realistic and fully developed.
I loved that the plot of this book is very simple yet very complex at the same time. I love books about the shenanigans that happen at upper class boarding schools, but this book was so much more than that. It was about breaking the unwritten rules and laws of society; about how the whole world is essentially a panopticon; about how everyday sexism is still in play today. I loved how this book managed to tackle almost trivial issues surrounding boys and boarding schools whilst also tackling much larger issues like class, gender and feminism whilst still keeping the book fun and entertaining to read. The romance really wasn't the focus of this book, but it still felt very real and realistic unlike some literary romances which I think can get a little carried away. This had a sort of Gossip Girl vibe but instead of tackling what to wear to a gala, it tackled the patriarchy. Jeez, we need more books like this.
This book was ever so slightly better – in my eyes at least – from We Were Liars and therefore gets a 4.5 stars, maybe even 5 out of 5 stars. I'd recommend this book to anyone going through high school or college, especially the women amongst them, because I think this book highlights some issues within our current world which really need addressing.