I'm back for another top 5 and this time I'm sharing five characters from the world of books, TV and movies that I want to know more about. I want to know their backstory, and their past and everything that makes them tick. I want to know all their dirty little secrets and basically I want to know everything about them. I also really like all of these characters and I wouldn't mind a whole book or series of film about them, because I think they are amazing. So without further ado, let's begin!
1) Angie Martinelli from Agent Carter
I love Angie's character and I love her friendship with Peggy, because together these two are just the cutest. Angie is really fiery and determined yet she's also really friendly and kind. But, I want to know more about her. I want to know what her childhood was like because I think she grew up in a really fun, loving family. I want to know about all the shenanigans she got up to at school – as I think Angie is a bit of a mischief maker. I'd really like an entire episode just about Angie basically – maybe she could get knocked out and starts flash-backing to memories from her past. That would be good…so please, big boss people, give me more Angie Martinelli.
2) Seaweed J. Stubbs from Hairspray
Seaweed is probably one of my favourite characters in Hairspray (which is a movie I love) and I especially love his romance and relationship with Penny. But, I want to know more about his past and his life. Growing up Motor-Mouth Maybelline as a mother, and Inez as a sister must have had its ups and downs – and there must be a whole host of amusing stories and anecdotes that those three have got up to. I'm sure that they have had to put up with some grief too, in a predominantly all white society, so I want more of those awesome comebacks that I know Seaweed is filled with. I also want more cute scenes with him and his sister growing up, as they seem very close and I'm sure they have had many they adventure. I know that I'll never get a movie with just Seaweed, but a little more backstory would be nice.
3) Jessamine Lovelace from The Infernal Devices by Cassandra Clare
I really loved the character of Jessamine in The Infernal Devices – which isn't something that many people think – and I thought she was a really interesting character with a real heart, but often hid behind her blunt words. I also loved how badass she could be – and I still want her cool demon-defeating parasol. But we don't really find out that much about her, and I'd really like to find out more of her family and her childhood and why she has such a harsh dislike for the Shadowhunters. There must be some amusing stories about possible suitors or trips to the theatre. I really just want more for Jessamine, and I really wish that we'd seen more of her in the books.
4) Frank Delfino from How To Get Away With Murder
Frank is possibly my favourite male character in this show, but I feel like we know very little about him. That certainly adds to his aura of mystery, but I really would like to know more about his childhood. How does a person even get into his 'line of work?' What about some of his ex-girlfriends? I'm sure there are some hilarious and interesting stories hidden in his past, and really, I just want more of Frank because I think he's extremely under-rated. He's funny and loyal and brave and is willing to do anything to help the people he trusts. I also love his and Laurel's relationship in this show – but Frank is the one that want backstory for.
3) Camille Belcourt from The Infernal Devices and The Mortal Instruments by Cassandra Clare
This is another character from Cassandra Clare's books that I want to know more about. I haven't come across Camille yet in The Mortal Instruments (I have only just read the first book…watch out for that review) but I loved her in The Infernal Devices and I want more of her. I'm sure she'll get some more development in TMI but I basically want to know everything about her. She's sophisticated and mysterious and strong-willed and very dangerous, and I love her. There must be some fun stories about her vampire-ish past, and I want more details about her time in France!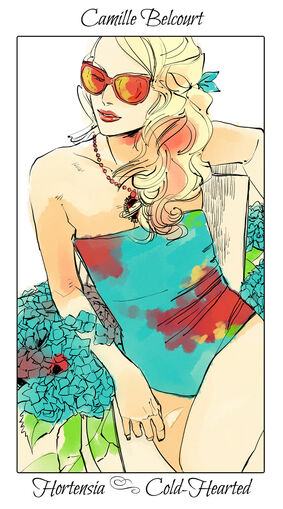 Those were just some of the characters that I really wish I knew more about – what are some of yours? Do you agree with my choices? Let me know in the comments!