This summer I've found myself to be on a bit of a comedy-kick and I've slowly been making my way through some American favourites, alphabetically of course. I stumbled across Arrested Development and with the twenty minute episodes, I couldn't refuse. And I actually really enjoyed it. I think they managed to get a lot of character background and set up the story very well in the short twenty minutes that they had, but at the same time it was still a very easy watch and it didn't feel as though you were being overloaded with information. I think the characters and the premise are really original and interesting to watch, and this show is also very funny. With some comedies, I find the pilot to be a lack-luster but with this the pilot actually did make me laugh. I really want to carry on with this one when I don't have so many other things that I need to do before school stars again.
Meet the wildly dysfunctional Bluth family. This family was once at the height of real estate development in Orange County, California. But when the family business – the Bluth Company – goes bust, they're suddenly found penniless with their assets frozen. They move into their last remaining asset – the model home left over from their latest housing tract. Their luxury vehicles are replaced with a reminder of the family's former wealth – the stair car that accompanied their private jet. The patriarch of the family is George Bluth – he's now in prison, and loving every minute of it. His wife Lucille and daughter Lindsay are spoiled socialites who can't handle getting kicked out of family restaurants. His son Buster is in his mid 30's and lives at home. His son George Oscar Bluth is a magician who started a group to get magicians to be taken seriously – and gets kicked out when his own tricks are revealed.The only sane member of the family – Michael Bluth, along with his son George Michael, want nothing to do with the family business. But one bizarre circumstance after another keeps Michael and George Michael from leaving their eccentric family.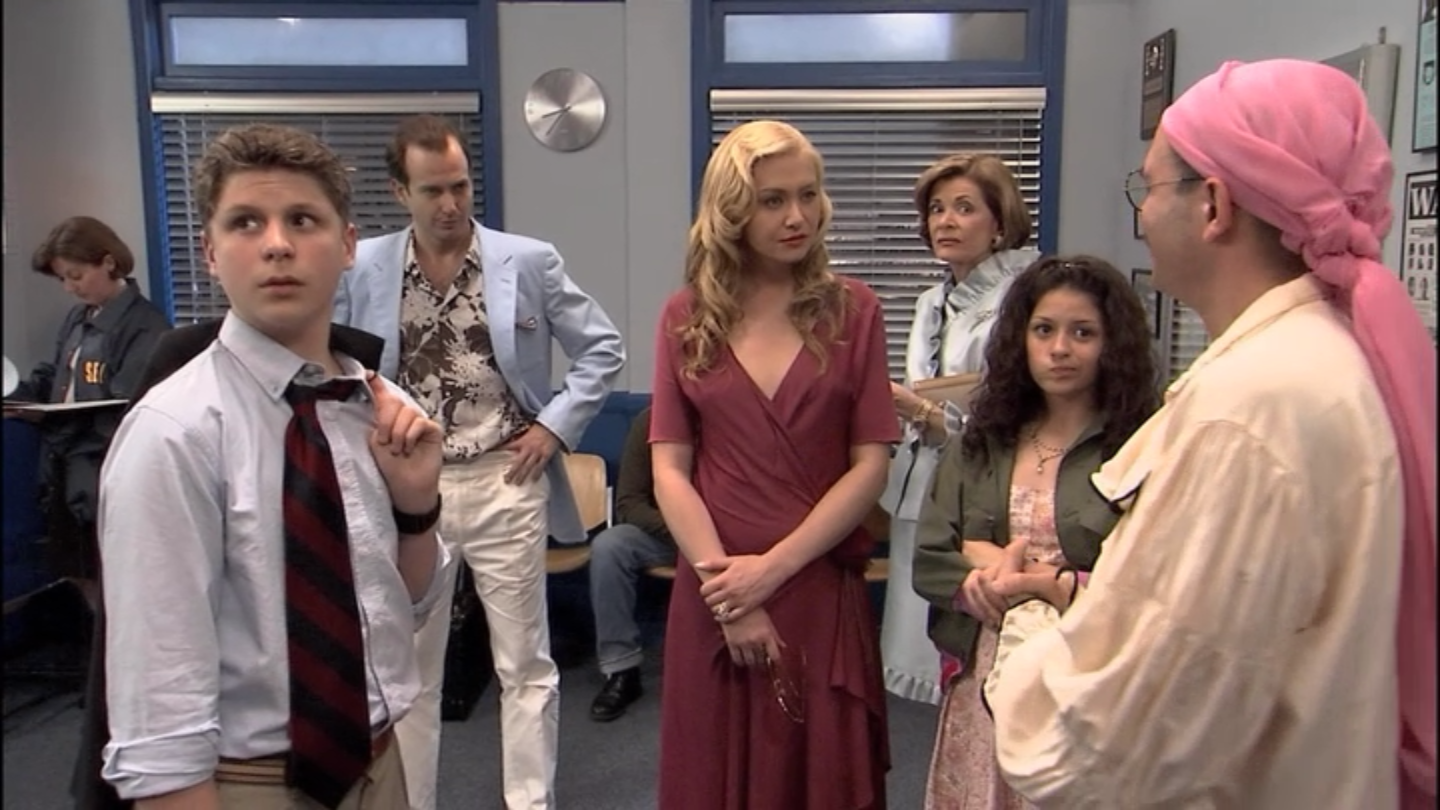 Firstly, I really love the characters that were introduced in this show. Michael (for the first time ever) is a main character who actually has his life together and is doing good for himself and his son. He is also very funny and sarcastic and I love his sense of humour. I really like his relationship with his sister Lindsey because they have a very relatable, realistic sibling relationship. Lindsey hasn't quite got her life together and seems to be quite cold but I think secretly she is a very loving and compassionate person. I think that Michael's son George Michael and Lindsey's daughter Maeby make a great little team and hilarity is going to ensue with those two. We haven't really got to see any of the other characters in much detail, but I think the show did a very good job of introducing everyone and setting everything up within twenty minutes. As an audience member, I know who everyone is and what to expect in the next few episodes.
The plot was very straightforward – it was basically just introducing characters – but I think that in the pilot episode and especially in a comedy – the plot can't be too complicated, otherwise the humour is lost. I haven't seen another show like this out there, certainly not with this family dynamic and with a main character who is actually a very decent human being who has his life together. I think that in a few episodes time, once everyone has been introduced properly, this show is really going to take off. I know that this show has already taken off, as the pilot was aired in 2003 when I was just a child, but I can't wait to marathon this in the autumn. I think this show, from the looks of things, has something for everyone: humour, romance, plot, characters and a lot of business-y chatter which I just glaze over.
I can't wait to properly marathon this series and just watch all four seasons in one fell swoop. It's funny and entertaining and engaging and this could be a new favourite of mine.