I am well aware that Queen of Shadows by Sarah J Maas (my second most anticipated book of 2015) was released on Tuesday (the 1st of September), so we're not really waiting for it anymore. However, I know that the first opportunity I'm going to get to even purchase Queen of Shadows will be the 27th of September. So whilst I ignore everyone else's reviews and pictures and shrieks of excitement, I am going to do this tag and make me feel better. And, this will contain spoilers for Heir of Fire, so watch out.
1) Favourite book by Sarah J Maas and why?
I am yet to read A Court of Thorns and Roses which is a sin in itself I know, but I think my favourite book that I have read of hers would be Heir of Fire. It is action packed and engaging and hilarious and filled with amazing characters and dialogue and world-building. Just…yes…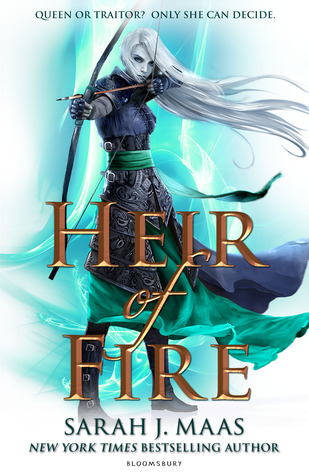 2) Favourite character in Throne of Glass series and why?
This is like asking me to pick my favourite child – if I had a child – but I'm going to have to go with a lot of people's answers and say Celaena/Aelin. I love how she isn't afraid of being herself and how she is tough and feisty yet feminine and nerdy at the same time.
3) Okay, what team are you on: Rowan, Chaol or Dorian?
If you've been reading my blog for any length of time then you will know that I am firmly on team Dorian, and I have been since the beginning. I get a real Caspian from the Chronicles of Narnia films vibe from him (and I love Caspian…and Ben Barnes). As well as being really cute and sweet together, I think they have a really supportive, loyal and mature relationship and it's clear that they both trust each other. Rowan never even had a chance – sorry guys – and Chaol got his shot and messed everything up.
4) How long have you had to wait between reading Heir of Fire and Queen of Shadows?
All together? By the time I get to read Queen of Shadows? 5 months and eight days. Which is far too long.
5) What are your favourites out of the books that have helped you pass the time in between Sarah J Maas releases?
Probably Vampire Academy by Richelle Mead and City of Bones by Cassandra Clare.
6) When do you think you'll get a chance to read Queen of Shadows?
Like I said, I'll be buying it on the 27th of September (hopefully) so anytime after that 🙂
7) What would you say to recommend Sarah J Maas books to someone who hasn't read them?
FREAKING READ THEM? They are full of action, suspense, romance, fantasy and drama and the characters, world building and plot are simply amazing! GO AND READ THEM!