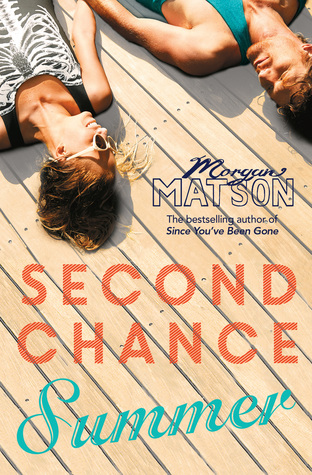 I love Morgan Matson and I've been raving on about her ever since I started this blog – and now I've read all three books that she currently has published. And although this book is definitely my least favourite Matson, I still really loved it. The wide variety of characters were really interesting and exciting to read about and I really liked the main protagonist Taylor, even though she isn't my favourite Matson heroine. The setting was really summery and felt very atmospheric – perfect for putting me back in the spirit of summer. I also liked how this book wasn't afraid to include a much darker more serious topic, and I'll give this book kudos for that. I also loved how we got a little sneak peak into Amy and Roger's lives who make a re-appearance (even if it is less than three sentences). Overall, a really great summery read and I really recommend it.
Taylor Edwards' family might not be the closest-knit—everyone is a little too busy and overscheduled—but for the most part, they get along just fine. Then Taylor's dad gets devastating news, and her parents decide that the family will spend one last summer all together at their old lake house in the Pocono Mountains. Crammed into a place much smaller and more rustic than they are used to, they begin to get to know each other again. And Taylor discovers that the people she thought she had left behind haven't actually gone anywhere. Her former best friend is still around, as is her first boyfriend…and he's much cuter at seventeen than he was at twelve. As the summer progresses and the Edwards become more of a family, they're more aware than ever that they're battling a ticking clock. Sometimes, though, there is just enough time to get a second chance—with family, with friends, and with love.
Firstly, I loved the whole family dynamic of the Edwards and I thought they were a great example of a loving, caring support-unit. I related to Taylor's younger sister Gelsey a lot being a dancer myself, and I really liked reading the paragraphs about her. I also loved Warren, Taylor's brother, and I loved reading about his romance and his uptight personality. Taylor was fun, a little shallow and bland at times, but still a very entertaining character to read about and I really liked how her decisions drove the plot. I loved Taylor and Henry's romance and the relationship they had – but is it just me who notices how the title of this book is wrong? By the end of the book, they've had three chances at a relationship, not two. Anyway, I also really liked Taylor's best friend Lucy and how contrasting she was to Taylor – they made a great pair.
This book didn't have any particular moments that made me laugh out loud but I did have a slight teary-eyed moment near the end. This book had a lot of really charming, heart-warming moments between Taylor and her dad and with Taylor and the rest of her family. I also loved how we got to see Amy and Roger in this one too because that is one of my absolute favourite things – seeing characters cross over into different books. I think that this book is a good all-round book and would suit a lot of different audiences; it's a great summery contemporary with romance elements and family elements and also a great message. I did find the writing to be slightly cheesy at some points – and I've never had a problem with Morgan Matson's writing – so I'm sure it is just a one off thing because I love her other books, Amy & Roger's Epic Detour and Since You've Been Gone.
I'd give this one a 4.5 or even a 5 out of 5 stars because it was such an enjoyable, heart-felt read. Not my favourite Matson by any stretch of the imagination, but still a really great contemporary for her to add to her repertoire.