Spoilerery and spoilerery…Make sure you've read the three previous books…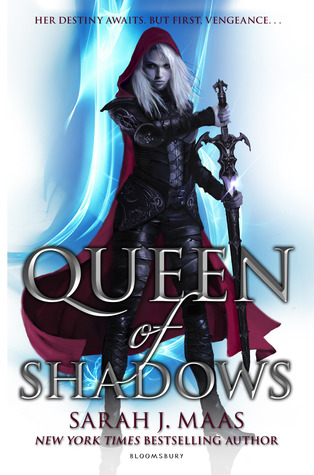 This, the fourth installment in the Throne of Glass series, has been eagerly awaited for by me since I put down Heir of Fire. And, since this is now one of my favourite book series of all time I wasn't going to wait too long to read it. And, wow. This series keeps getting better and better, bigger and bigger and simply more epic in scope. More fascinating and amazing characters are introduced, more richly developed parts of this world are explored and more evil masterminds come crawling out of the woodwork. The humour in this book mixed with the fantasy elements mixed with the romance mixed with the character development is simply stellar and all the characters are unforgettable. An excellent addition to the series, and everything has been set up nicely for the epic battle that is going to go down in the next two books.
Everyone Celaena Sardothien loves has been taken from her. But she's at last returned to the empire – for vengeance, to rescue her once-glorious kingdom, and to confront the shadows of her past. She has embraced her identity as Aelin Galathynius, Queen of Terrasen. But before she can reclaim her throne, she must fight. She will fight for her cousin, a warrior prepared to die for her. She will fight for her friend, a young man trapped in an unspeakable prison. And she will fight for her people, enslaved to a brutal king and awaiting their lost queen's triumphant return.
Firstly, I need to talk about these characters. Aelin such a strong, fierce character and I love her drive and her loyalty and her intelligence. I also love her humour and her spontaneity that she lives her life with. Basically, she is amazing and I adore her. I also adore our new-comer Lysandra. I love her wit and her heart and her friendship with Aelin. I also love how she told the reality about having big boobs. And, I really hope that she and Aedion get together because they're both such strong, confident and supportive characters that it would be beautiful. Rowan is great – he's loyal and alert and compassionate and although I like his relationship with Aelin, I'm still firmly in the Dorian camp. Yes, he's fractured and broken but there are glimmers of his humour and his spark still in there and I just need my baby to get better and save the world as I know he can. I still really love Manon and her spirit and how she cares so much about her coven, but I really don't want her with Dorian. Paws off! He's not yours Manon, even though I love you, go and fall in love with Rowan or something…
I still really like the different points of view in this book and switching back and forth between them all keeps me on my toes. I also loved how lots of our questions from Heir of Fire were answered a whole load of new questions entered our minds because that keeps me wanting to keep reading. The world really continued to grow in this book and I can't wait to explore the Southern continent with Chaol and Nesryn (who I also think is amazing). I also like that this series isn't afraid to kill people off – I am not sad about Arobynn in the slightest – and how the stakes aren't exaggerated or made fun of. I adore all the different relationships in this – friends, 'brothers', 'sisters' and all of the romantic sub-plots that are weaved so perfectly into everything. Sarah J Maas's writing in this book was as fluent and engaging and as easy to read as ever, and I love the way how the whole story fits together perfectly, but as the reader you're still left with questions.
Basically this was an incredible addition to this series and most definitely a 5 star book. I'm constantly amazed of the boundaries that this book series keeps pushing, and everything in this series is stellar. Really.