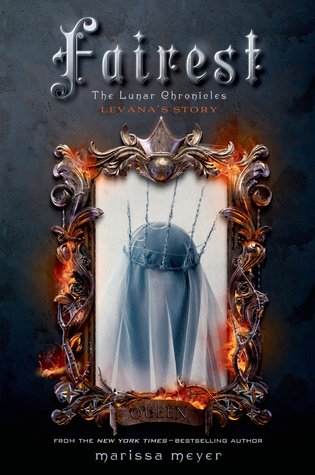 You all know how obsessed I am with The Lunar Chronicles and with Winter finally being released (although I am yet to get my hands on it), I decided that I should probably read Fairest first. I didn't really expect much from this 200 page novella – I knew I was going to at least like it because it's written by Marissa Meyer – but I didn't know much these characters would affect me and how much this book would play with emotions. Levana is such a complex character and the story is weaved so perfectly that you feel really sorry and sympathetic towards her but at the same time, you hate the fact that she's being allowed to ruin so many lives. I really liked seeing the characters of Selene and Winter in this book too, as these two are by far two of my characters in the whole series. Everything in this book – from every single character to the plot-twists – was really complex and intriguing and my heart was torn and squished back together again. I definitely think that this book is a must-read if you love this series because it adds so much depth to the characters and you can really understand every reason behind why Levana is such a awful, awful person.
The story takes place about twenty years before the start of Cinder, when Levana is fifteen years old. It starts on the day of her parents' funeral. Her parents have been murdered by a shell who was not happy with their rule. As a result of their death, Levana's older sister Channary is about to be crowned the new queen of Luna. From there, the story follows ten years of Levana's life. The book gives insight into what has made Levana hard-hearted, dictator she becomes, her relationships with Channary and her niece Selene, how she became the stepmother of Winter and what exactly lies beneath Levana's glamour.
Something that I loved about this book was just how informative it was. We learn so much about Levana's past – her history, her ambitions, her desires and her true motives for every little thing that she inflicts onto my favourite band of misfits. She is such a interesting character and I really loved seeing how her character developed throughout the course of book. At the start of this book, Levana is a really quiet character who doesn't speak her mind and lets everyone walk all over her – especially her evil older sister Channary who I now thing I hate more than Levana herself. But at the end of the novella, Levana is a ruthless, determined ruler who doesn't take any crap from anyone.
I think that a lot of character pop up in this book that have been mentioned in previous books, so it also gives you a little more insight into their lives and the overall workings of Luna. The relationships in this book was another thing that I loved reading about. Levana's relationship with Evert complex and dark, and slightly disturbing at times too. We're never quite sure if Levana is using her powers or whether Evert is acting of his own free will – we don't know whether Levana is truly being a monster and bending his emotions or whether Evert is just a deluded, emotion-ridden wreck after the death of his wife. Everything about this book just intrigued me and I loved just how intriguing and deluded and deranged this book was.
Marissa Meyer's writing was interesting and enjoyable as per usual, and I'd give this book a 4.5 out of 5 stars. I wish there had been a little more plot at times, rather than just going through the motions but other than that I absolutely loved this.