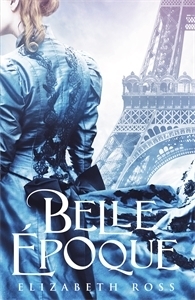 I picked this book up entirely on a whim; I'd heard absolutely nothing about it but the fact that it is set in France instantly intrigued me. Subsequently, my expectations for this book were pretty low. However, it actually turned out to be a pretty enjoyable read. The concept was very unique and interesting to read about and I thought that the writing was really easy and quick to read. The characters could have been developed further – most of them were rather predictable – and the plot could have done with a bit more tension and suspense to keep the reader truly hooked. But, on the whole, I enjoyed this book for the most part and it kept me entertained throughout.
When sixteen-year-old Maude runs away to Paris, her romantic dreams vanish as quickly as her savings. Increasingly desperate for money, she answers a mysterious advert: 'Young Women Wanted for Undemanding Work. Apply In Person To The Durandeau Agency.' But the work is very strange indeed. Maude discovers she is to be a repoussoir – an ugly young woman hired by Parisian socialites to enhance their beauty. Maude is humiliated – but faced with destitution, what choice does she have? Quickly selected as the perfect companion for the Countess Dubern's daughter Isabelle, Maude is thrown into a decadent world full of parties, glamour and astonishing cruelty. Maude finds that academic Isabelle is equally disenchanted with the Parisian social scene, and the girls form a tight bond. But when bohemian artist Paul and the handsome Duke d'Avaray are introduced into the girls' lives, their friendship will be tested to its limits.
The main thing that I liked about this book was the setting of Paris because it gave the book such an atmospheric backdrop for the story to take place on. I liked the main character of Maude, though she was nothing truly special, as she was pretty determined and a really good friend. I did find her slightly annoying at times because of just how clichéd her character was and how pretentious she seemed. I really liked the character of Isabelle because she was so strong-willed and independent, which I always like to see in a character. The rest of the characters, well, the rest of the characters all seemed to sort of blend together with none of them having strong or forceful enough personalities to stand out from the rest of the characters. I didn't feel anything for any of the characters, apart from maybe one character who totally got what was coming to her. A lot of the characters felt very naïve and childish, and I felt like their minds just acted in a way that no sensible human being would. So I got annoyed with a characters.
Another thing that I think needs a bit more development and fleshing out is the general plotline. There needs to more twists and turns and shocking reveals and things to really keep the reader hooked to the story. I really liked the concept of this book, but I thought that the overall message of the book was lost in some messy phrasings and cheesy scenes. I really didn't like the romance in this book, and I really didn't think Maude and Paul had any chemistry what so ever. The romance was definitely an insta-love thing, which isn't something that I like to read about. A lot of the dialogue in this book felt really forced and un-natural, and there needed to be a lot more humour and light heartedness between the characters to make the scenes more interesting. The writing was really easy to whiz through and was very easy to understand and I did like how the historical fiction elements were weaved into the story, because I love that kind of thing.
Overall, I'd give this one a 3 out of 5 stars because I put this book down feeling slightly underwhelmed with the whole situation. The characters needed more development, the plot needed more development, the dialogue needed more development but the overall story was there and I did enjoy it.