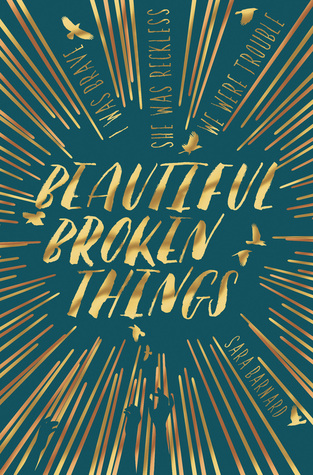 I was attracted to this book mainly because of the cover but also because of the amazing things I'd heard about it. And I really did enjoy it. I flew through it in a matter of days and there were so many elements that I could really relate to that I'd never read in a book before. Having said that, I didn't really connect with any of the characters and sometimes their big preachy – almost pretentious – paragraphs would annoy me. I really enjoyed the writing style though; it was very engaging and easy to understand. I do think that this book would have benefited from a bit more humour and banter between the characters and I would have liked to see a bit more emphasis put on the feminist parts of the book, considering that is one of the books main themes. But considering that this is Sara Barnard's first novel, I'd say that she did a pretty good job and I'm definitely going to be looking for more of her books in the future.
Best friends Caddy and Rosie are inseparable. Their differences have brought them closer, but as she turns sixteen Caddy begins to wish she could be a bit more like Rosie – confident, funny and interesting. Then Suzanne comes into their lives: beautiful, damaged, exciting and mysterious, and things get a whole lot more complicated. As Suzanne's past is revealed and her present begins to unravel, Caddy begins to see how much fun a little trouble can be. But the course of both friendship and recovery is rougher than either girl realises, and Caddy is about to learn that downward spirals have a momentum of their own.
In this story, I really loved the friendship between the three main characters, but as individual characters I would have liked to see more of them, in a character-development sense of the word. I really connected with Caddy – although I do wish that she'd stop apologizing for things that aren't her fault – because she was really supportive of those around her and was a really good friend to Rosie and Suzanne, even when she couldn't see it. I also really liked Rosie because she was very feisty, without ever being mean, and would never let anyone walk all over her, which is a quality I love and admire. I did think that the characters could become slightly annoying at times and please, fictional characters, stop apologising for things that you aren't responsible for and just for the sake of it. I also liked how differently the parents were portrayed in this book because they all had different ways of raising their children, assuming their authority and 'controlling' their children – and it was very prominent in this book just how large an impact the parents can have on their children's behavior and the rest of their lives.
I really enjoyed Sara Barnard's writing style in this book because it was both descriptive and easy to understand. I think the writing style is one of the main reasons that this book flew by so fast. However, as the book neared it's conclusion and the characters were undergoing significant changes, I did find that the writing became very lyrical, but almost to the point where I rolled my eyes and skipped that paragraph. It was just a very sudden change from the rest of the book, that it took me out of the experience for a second. I had this problem with quite a few aspects of the book too. A few moments and chapters were described very deeply with paragraphs and paragraphs about the characters depressed feelings in this one moment – I got a Perks of Being a Wallflower vibe – but if you like that kind of writing and structure, then you'd probably enjoy this book more than I did, but it just didn't exactly work for me.
Overall, I'd give this book a 3.5 out of 5 stars, or a 4 if we are round things up. I definitely want to check out more of Sara Barnard's books as she writes them and I did enjoy this one, but there were just a few moments that just didn't sit right with me.