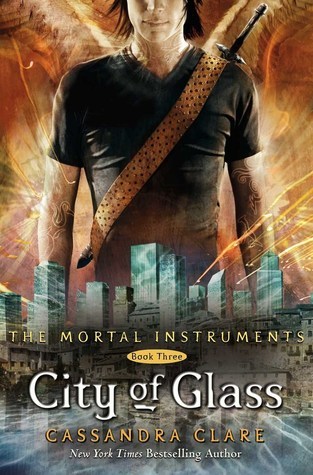 I am very slowly making my way through the Mortal Instruments and I've finally reached the mid-point! I know that several people felt like the series could have finished here, instead of being a six book series but after reading this book, I disagree with that. I still think there are many unanswered questions and details that are left hanging in this book and I honestly think that Cassandra Clare did too much world-building just for it to be a three book series. Like the two previous installments, this book was fab. It was action-packed and full of twists and in this book people actually died. I love the characters in this world and in this book especially you get to see them develop in ways that we haven't seen before. I also loved that a number of romantic sub-plots begin to develop further in this book and we get some very cute moments between couples. These books are always hilarious and this was no different thanks to the hilarious banter and witty one-liners. I can't wait to see where this story is going to go from here and I can't wait to see what happens next!
To save her mother's life, Clary must travel to the City of Glass, the ancestral home of the Shadowhunters – never mind that entering the city without permission is against the Law, and breaking the Law could mean death. To make things worse, she learns that Jace does not want her there, and Simon has been thrown in prison by the Shadowhunters, who are deeply suspicious of a vampire who can withstand sunlight. As Clary uncovers more about her family's past, she finds an ally in mysterious Shadowhunter Sebastian. With Valentine mustering the full force of his power to destroy all Shadowhunters forever, their only chance to defeat him is to fight alongside their eternal enemies. But can Downworlders and Shadowhunters put aside their hatred to work together? While Jace realizes exactly how much he's willing to risk for Clary, can she harness her newfound powers to help save the Glass City – whatever the cost?
In my opinion, Clary changes a heck of a lot in this book and I loved reading about the changes she goes through. She develops from the impulsive, at times quite selfish, character that many readers have problems with into, what I think is, a much more intelligent person who thinks before she speaks. I feel like the rest of the characters also developed throughout the course of this book and we saw sides to their character that we hadn't seen before, and this was very refreshing to read about. We got to see Isabelle's emotional side and we also got to see Alec being a little looser and more fun. There weren't many new characters introduced in this book, but those that were introduced were just another puzzle piece that was added to the overall big picture of the world that Cassandra Clare has created. Family trees are being established and developed and it is really interesting reading this series after I read The Infernal Devices because a number of families that appear in that trilogy appear in this series too.
Cassandra Clare has a really lovely writing style that is engaging and descriptive to read but I do think that, sometimes, it can border being slightly too cheesy and little bit pretentious. This doesn't affect the quality of the dialogue however and I absolutely adore reading the scenes in which the characters have a lot of interaction with each other, because these scenes are always hilarious. One of the most prominent feature of this book, and most of Cassandra Clare's books, is the humour and wit that she brings to her characters and dialogue which completely changes the tone of the book. A prominent part of this book is the battle scene at the end of this book and I'm often skeptical of battle scenes because they can sometimes feel slow and boring and stretch out forever. This battle, however, was fast-paced and intense and you didn't actually know whether some characters were going to make it. Obviously, I knew the main lot would because there are six books in total but the peril was still there.
Overall, I am still thoroughly enjoying reading this series and I'd give this particular installment a 5 out of 5 stars because it was such an entertaining and enjoyable read.