This year is shaping up to be a pretty amazing year for new book releases. There are so many new releases that I could go on and on about but these are just a select few that I am personally feeling the most excited for.
1) A Court of Wings and Ruin by Sarah J Maas
Expected Release Date: May 2nd
This is the final installment in the A Court of Thorns and Roses trilogy which is Sarah J Maas's new adult series that I am still slightly on the fence with. I liked the first book and then liked the second book a heck of a lot more but I'm not sure if I'd say I am 100% madly in love with this series. I'm madly in love with some of the characters but not necessarily the story – let's see if this installment can change that!
2) Untitled (Throne of Glass #6) by Sarah J Maas
Expected Release Date: Unknown
The Throne of Glass series is definitely one of my all time favourite series and I can't believe that it is really ending. After the cliffhanger from the penultimate, I am literally shaking with excitement to see what delights this book will bring. There's no title, cover or release date for it yet but the fact that it is even alive fills me with joy (and sadness and anxiety).
3) Flame in the Mist by Renee Ahdieh
Expected Release Date: May 2nd
I haven't read Renee Ahdieh's first critically acclaimed series yet but all the hype surrounding that has made me very excited for her newest series which includes samurais. It sounds dark and mysterious and intriguing and I am very excited to give it a read.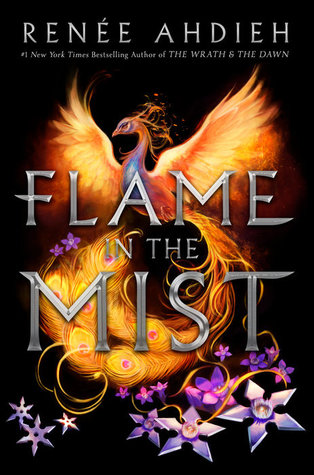 4) Always and Forever, Lara Jean by Jenny Han
Expected Release Date: May 2nd
I didn't look like this book was ever actually going to happen but this year, the final book in the now trilogy following Lara Jean's adventures is being released. These books are so sweet and engaging and funny although at times they can be slightly unrealistic. Regardless, I am very excited to see how this series is going to conclude and where all of the characters are going to end up. And, the cover is absolutely stunning.
5) Untitled (The Illuminae Files #3) by Amie Kaufman and Jay Kristoff
Expected Release Date: Unknown
I haven't actually read the second book in this series, but I do own it, so I'm already anticipating the release of this book. This series is so creative and unique and interesting and totally unlike anything else out there and I really admire Amie Kaufman and Jay Kristoff for choosing to do a book series like this. I can't wait!
6) Wicked Like A Wildfire by Lana Popovic
Expected Release Date: August 15th
This book sounds absolutely amazing and I cannot believe the lack of hype that this book has. It includes magic and mystery and sisterhood and even the style of writing in the synopsis alone has me completely ensnared and I really want to read the rest of this story right now. And, again, the cover is absolutely gorgeous in every sense of the word.