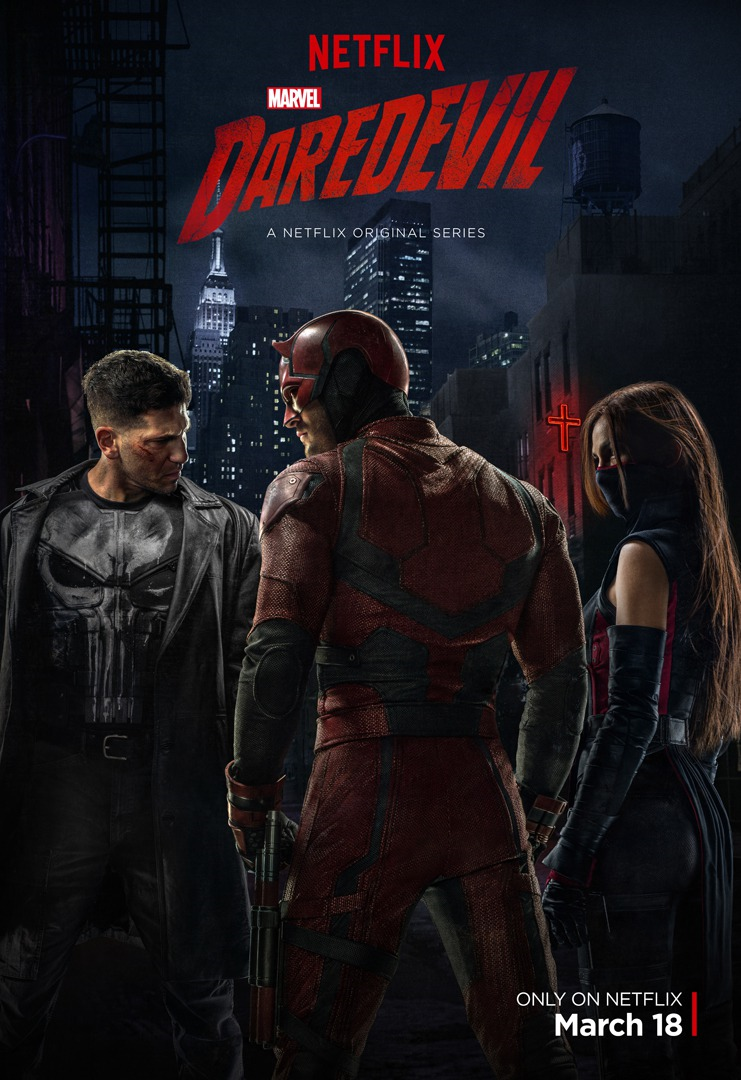 I took a break from this series for a while because I wanted to watch other things and I also didn't want to have any particular TV commitments over the Christmas period where I was going to be watching random shows left, right and center. But now that the festive period is over, I'm looking for a more structured TV viewing and decided to continue on with this show and start the second series. There's been a lot of announcements concerning this world and the characters within this world and I really need to be fully caught up with everything related to the Defenders world. And after being only one episode in, I can safety say that I am way more interested in the plot of this series than I was of the last one. I'm already loving the relationship that the characters have and their humor and am super, super intrigued to see what is going to happen in future episodes because this one had me on the edge of my seat.
When it comes to anything, I'm mostly bothered about the characters. And while it took me a little while to grow fully attached to these characters. now I am in love with them and I particularly love the sibling-like relationship that they all have. Matt and Foggy's relationship is one of the things that make this show so great for me because they're both so protective and loyal towards each other but are also constantly joking around and teasing each other and I love them both so much. I also really like their relationship now that Foggy knows about Matt's vigilante alter-ego because their relationship is all the more complex now. Matt on is own is a very interesting character too. He's very flawed and can sometimes be in a bit of a dark place because he feels the weight of so many lives on his shoulders. But he is also extremely kind and hardworking and funny (and obviously, very good looking). To be perfectly honest, I didn't really like Karen at first but now I like her character a lot more. She's a lot tougher than she first appeared as is stubborn and strong-willed and stands by what she believes in and what she thinks is right.
I really like where the plot looks to be going because there is so much scope for what could happen and so many different characters that could be involved. I wasn't particularly afraid of Fisk in the first series but something I am scared of are scary, biker cult groups of various origins who stalk around Hell's Kitchen and all have the ambition to make it their own. All the different groups of people have no problems with breaking the law and with sticking their necks out to get what they want. I'm also pretty scared by the un-named character that makes an appearance in this first episode that everyone seems to be running from. Another thing that I liked was the main three are all going out on their own and perusing leads and I particularly loved Foggy's effort at finding information and doing his bit. I don't know whether it's because he feels like he needs to match Matt's level of daredevil-ness or if he's feeling a bit inferior to him, but I'm really liking the new Foggy who is more confident.
Something that I feel like I've been waiting for for ages in this show is some kind of romantic sub-plot (because Foggy and Marcie doesn't really count). But having said that, I can't imagine any of the characters getting together in a romantic way. There was quite a bit of hinting in this episode towards Matt and Karen and I just don't see them together, as much as I love them both separately. This episode maintained the same gritty, dark tone that the previous series had but seemed, at least to me, a lot more fast-paced. There were a lot of moments where I was sat on the edge of my seat and there were countless twists and turns through this episode. I couldn't predict any of the events that were happening – something dramatic would happen but then I'd be lulled into a false sense of security with a cute, funny scene before something dramatic happened again and this continued for the majority of the episode.
I thought that this opening episode was a really strong and solid start to the series that introduced us back to the characters and to where the world currently stands after the events of the first series. I really liked how the events of the first series weren't completely forgotten and skimmed over in the world and I'm now very intrigued – and a little bit worried – to see what happens next.